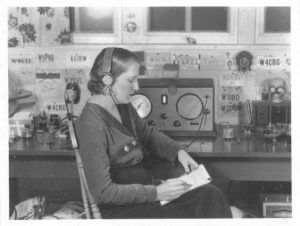 March is Women's History Month. In honor, we at Comrex are reflecting on the role of women in building radio in the United States. Here are just a few of the women who helped create American radio:
Gladys Kathleen Parkin was the first woman to obtain a first-class commercial radio operator's license in 1916, five years before white women were granted the right to vote through the 19th Amendment. She was a fifteen year-old high school student at the time, and she designed and built all of her own equipment.
Eunice Randall became the first female broadcast engineer in 1920. Her interest in radio had begun at the age of nineteen, when she built her own amateur radio equipment and operated with the call sign 1CDP. In addition to her technical duties, which included repairing equipment and occasionally climbing the transmitting tower, she read stories for children as "The Story Lady," and gave the police report over the air.
Marianna Cobb was one of only two women who was a registered broadcast engineer in the Washington D.C. area in the 1950s. She bucked expectations about women in the workplace, and helped the stations she worked with expand into television.
Today, there are many more women who are integral in expanding and evolving American radio. Women have been a part of radio since its inception, and will always be important to the industry.
Disproportionately few women are employed at technology companies, and this is a notorious problem. The gender gap is even more pronounced in radio – only 5% of audio engineers today are female. While women have found a greater voice in public radio, there are far fewer women in commercial areas. Organizations like SoundGirls are dedicated to helping more women enter the field.

We recognize this problem at Comrex, and we're proud of the fact that 35% of our employees are women, across all of our teams. But there's a long way to go.