What's your backup plan?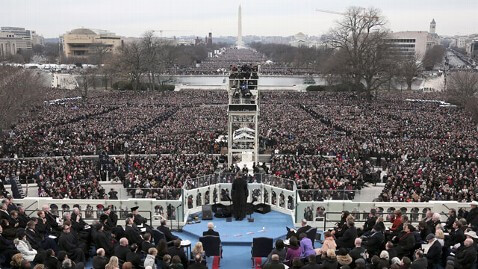 If you are attending next week's US Presidential Inauguration and will be broadcasting live from this event, you no doubt have already arranged for your media space, Secret Service and Press Credentials.  But if you're planning to use any of our Comrex IP audio or video codecs, make sure you take the following into consideration:  
If you plan on using a 4G LTE cellular data connection during the Presidential motorcade or during the Inaugural Ceremony itself, you might want to have a backup plan.  Some of our customers have learned the hard way that wireless data service can be significantly compromised during major events like this. The sheer volume of people that are packed into the U.S. Capitol can put a tremendous burden on the cellular infrastructure, even if the cell providers roll in additional resources to increase data and voice capacity. Planning to bond together multiple modems from different carriers may not be enough, due to the number of people using cell service.
Even more troubling is the potential threat of nefarious use of these cellular data services. To combat these, government agencies, such as the United States Secret Service, have been known to deploy countermeasures to preempt potential threats to the motorcades of top government officials and visiting dignitaries.
During events in Washington, DC, some of our IP codec customers have reported perfect signal and conditions up until the Presidential motorcade approached.  The general consensus is that the mysterious black Suburban with funny antennas going by had something to do with taking them off the air. (The Washington Post has verified that yes, the motorcade can affect connectivity.) And just in case that isn't enough to worry about, the U.S. Department of Homeland Security has an "Internet Kill Switch" in their back pocket to deploy in case of a national emergency.
So, be prepared with a backup plan for your broadcast just in case. Whether it be a personal WiFi hotspot, a satellite modem, or a good old fashioned POTS line, it's a smart idea to make sure you've got another broadcasting option in place!
Need help preparing for inauguration day? Want specific suggestions? Write to us at techies@comrex.com, or give us a call at (978) 784-1776.