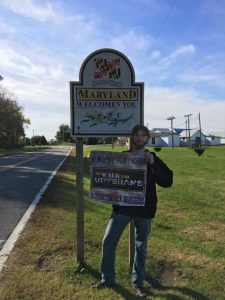 Kevin Kinkead, a former U.S. Army Infantryman, and Daniel Taylor, a former U.S. Navy sonar technician and firearms tactician, are walking across the continental United States to bring awareness to the many struggles that veterans face upon returning from duty. We featured their Walk for Veterans in a recent LiveShot ad, and on this Veteran's Day, we wanted to highlight their efforts.
According to Veterans Affairs, about 20 veterans commit suicide every day – these account for 18% of suicide-related deaths among US adults. Many of these veterans are young, and have just returned from service. While the VA is struggling to provide adequate mental health care, the demand is enormous, and funding is insufficient. Veterans returning from service often struggle to acclimate to civilian life, due to lack of adequate resources.
How can you help?
Support companies (like Comrex) that employ veterans: Many veterans have trouble rejoining civilian life due to difficulty finding fulfilling employment. Find out which companies actively employ former military members, and buy from them.
Learn what is happening inside the VA: The Veterans Affairs Office needs fixing, and badly. Learn what's going on, and stay informed. Call your state representatives and your senators, and register for sites like IssueVoter.org to keep your representatives informed on how you think they should vote on measures related to the VA. Most of all, make sure you vote!
Donate to a charity that supports veterans: Like Paralyzed Veterans of America, or the American Foundation for Suicide Prevention! (Or whichever one you like. But we urge you to do your research first – not all charities are created equally!)
Raise awareness: As broadcasters, we are in a unique position to spread information about important issues to large audiences. So use your platforms to call attention to this issue, and spread the word!
To learn more about the Walk for Veterans, visit their Facebook page.
Thank you to all of our veterans for your service!