Wow, did we miss you!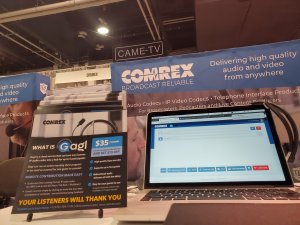 There's nothing like NAB, and after 2 years of meeting virtually, it was a real pleasure to be in Vegas again. Visiting with old customers, meeting with new customers, and seeing old friends – doing all of this in-person was revitalizing. 
And this year was a big show for us
We debuted Gagl, which is a cloud-based remote contribution solution that allows between one and five users to send and receive audio from computers and smartphones. All users can hear each other, and the audio is sent to a Comrex hardware IP audio codec.
It's a simple and effective option for improving the quality of your guest audio. 
Gagl is coming soon! Sign up for updates here.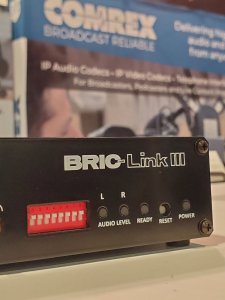 We also unveiled BRIC-Link III, a shiny new updated addition to our line of BRIC-Link codecs. BRIC-Links have become a staple for broadcasters all over the world, and BRIC-Link III offers increased functionality and more features.
BRIC-Link III is not available for purchase yet. BRIC-Link II is our current model; click here to learn more.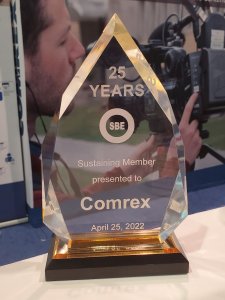 We were also honored to be presented with an award from the Society of Broadcast Engineers for 25 years of sustained membership, and we're proud to be part of the SBE community.
Did you miss us at NAB? Have questions?
Schedule a time to meet with one of our sales directors! They'll answer whatever questions you may have, and some you haven't thought of yet.
Chris Crump is our Senior Director of Sales and Marketing. Schedule a meeting with Chris.
Raul Hun is our Regional Sales Director for Latin America & Canada. Spanish speakers welcome! Schedule a meeting with Raul.
If you requested additional info or a demo, we will be getting in touch with you very soon. However, feel free to reach out to us with any questions.
All of our currently available products are in stock and ready to ship! Seriously.
We also offer a free demo program for customers in the United States! Try any Comrex product free for two weeks (you just pay for shipping). Interested in setting up a demo? Email us for more details, or call us at +1-978-784-1776.