ACCESS NX works with:
ACCESS Rackmount
BRIC-Link II
BRIC-Link
Comrex POTS codecs (with limitations)
IP Networks
IP infrastructure is growing rapidly, and networks are available virtually everywhere. ACCESS NX offers several ways to get connected.
ACCESS NX comes with a Wi-Fi modem, along with an integrated Ethernet port for connecting to wired DSL or broadband cable. ACCESS NX can also accommodate connections to 3G/4G cellular data networks using Comrex supported USB devices.
For those who need to use public Wi-Fi, ACCESS NX can log in to IP networks through the integrated web browser. This allows users to type credentials into login screens and agree to usage terms, which expands networking options.
Still need to use POTS? ACCESS NX is compatible with a USB POTS/PSTN modem for use on legacy analog phone lines*.

*sold separately
CrossLock Technology
ACCESS NX has been designed from the ground up to support CrossLock technology. The most advanced network management tool on the market today, CrossLock gives users the ability to use multiple IP networks together simultaneously. When a new network is introduced, Crosslock will immediately evaluate how much bandwidth is available, while factoring in latency and jitter information, and combine the two connections to take advantage of all available bandwidth.
More than just combining networks, CrossLock can also monitor and dynamically adjust how much of your stream is being placed on each network, in real time. When necessary, CrossLock can apply appropriate error correction, recovery, or concealment techniques. And when a network becomes unusable, CrossLock can isolate it, without any user intervention.
User Experience
Equipped with a 5-inch capacitive touch screen, it's simple to operate ACCESS NX in the field. Plus, with an improved user interface, ACCESS NX is designed to be even more user friendly than its predecessor.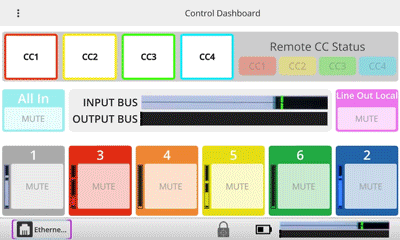 Rackmount
While the ACCESS NX has been optimized to provide complete mobility and solid reliability, the ACCESS Rack has been designed as its perfect studio counterpart. The 1U 19" rack mount ACCESS features balanced stereo XLR inputs and outputs, AES I/O on XLR, Ethernet port, POTS modem, multiple USB ports, and serial and contact closure ports. ACCESS Rack can be directly controlled with a keyboard or mouse, a USB touch screen monitor, or driven with a standard web browser.
Codec Commander
Codec Commander is a free Microsoft Windows™ application you can use to control your audio codec. You can manage your connections, check statistics, view audio metering, adjust audio profiles or change system settings. Click here to learn more.
Fleet Commander
Fleet Commander is a software application for controlling multiple Comrex IP audio codecs simultaneously. Rather than logging into each codec individually and juggling a desktop full of tabs, Fleet Commander puts you in control of your codec fleet through one unified interface. With the ability to manage all codecs from one simple window, this easy-to-use tool can save time and increase productivity for busy engineers. (Sold separately.) Click here to learn more.