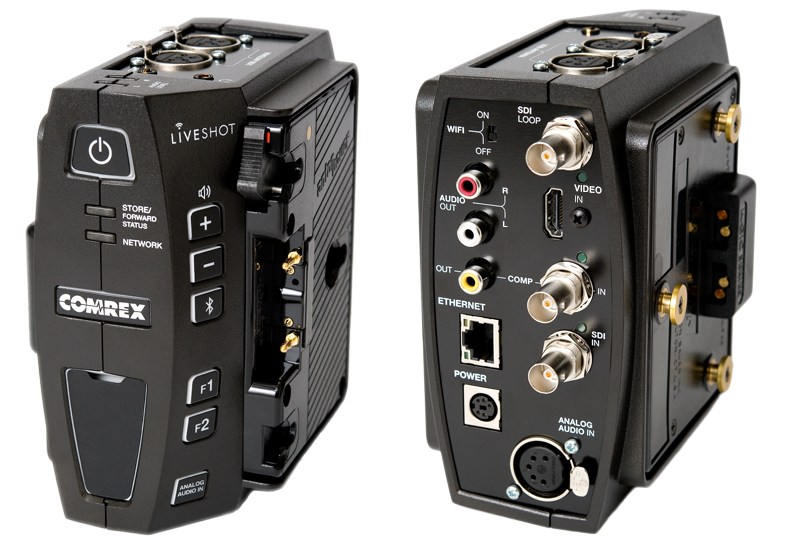 Highest quality H.264 video codec
AAC, HE-AAC, and AAC-ELD audio codecs
Less than 200mS delay for two-way broadcast (depending on network factors)
Full-duplex cue channel
CrossLock technology for secure and stable broadcasting
Switchboard for easier connectivity
Highly portable – 3 lbs, camera mounted, runs on phantom battery power
Works over 4G/LTE networks, Wi-Fi, wired broadband IP connections, Inmarsat BGAN and VSAT terminals
Free firmware updates

Top-notch technical support (English & Spanish)

100% designed & built in the USA at our facility in Devens, Mass.

One year manufacturer's warranty
LiveShot Portable works with:
Portable
LiveShot Portable is compact and lightweight. Available with Anton-Bauer gold mount plates or V-mount plates, LiveShot is designed to sandwich between a professional video camera and a battery (though it can be hooked up to any camera with a consumer digital video port and carried in any way imaginable). Powered from the battery or by an external AC power supply, LiveShot weighs 3 pounds and consumes 8 watts of power.
Video
LiveShot encodes and decodes video to the H.264 codec standard, which is the state-of-the-art codec for high quality video using low network bandwidth. But not all H.264 encoders are alike. Within the standard, several lesser-quality profiles are available to conserve processing power. For optimal video quality, LiveShot encodes with H.264 HIGH profile. While this option is unavailable in competing products, all H.264 options that maximize quality over poor networks and decrease latency are implemented in LiveShot.
Audio
Comrex has years of experience encoding live, low-latency audio over IP networks for broadcast, and LiveShot shows it. In addition to standard AAC audio coding, LiveShot uses HE-AAC and AAC-ELD audio coding, both reducing network bandwidth and lowering delay.
Latency
LiveShot can encode and decode an audio/video stream with less than 200mS delay (depending on encoding mode and network factors). LiveShot uses an automatic decoder buffer manager to keep delay to an absolute minimum.
Channels
LiveShot delivers full-duplex video and stereo audio between the field portable and studio rackmount systems. In addition, a full-duplex cue channel is available between the systems.
CrossLock
LiveShot utilizes CrossLock technology to create a stable and secure connection across the public Internet.
The most advanced network management tool on the market today, CrossLock gives users the ability to use multiple IP networks together simultaneously. When a new network is introduced, Crosslock will immediately evaluate how much bandwidth is available, while factoring in latency and jitter information, and combine the two connections to take advantage of all available bandwidth.
More than just combining networks, CrossLock can also monitor and dynamically adjust how much of your stream is being placed on each network, in real time. When necessary, CrossLock can apply appropriate error correction, recovery, or concealment techniques. And when a network becomes unusable, CrossLock can isolate it, without any user intervention.
CrossLock also adds intrusion protection, encryption, and forward error correction.
Internal Wi-Fi Access Point
LiveShot Portable provides an internal Wi-Fi access point. This access point serves a mobile-friendly web page, which enables users to control their unit through their smartphone via their browser or simple-to-use mobile app. Additionally, LiveShot can agree to terms and conditions of public Wi-Fi hotspots in coffee shops or hotels, making it easy to take advantage of available Wi-Fi networks.
Wireless
LiveShot offers connections to wireless modems via two USB ports, which can be used simultaneously to increase the bandwidth of connections. This feature allows users to choose their 3G/4G data carrier and/or Wi-Fi modem, depending on their circumstances. Additionally, when the LiveShot Hub is connected, two more USB ports are available (4 in total).
Along with USB modem compatibility, LiveShot is equipped with a built-in Ethernet port, which can be used to connect to wired broadband IP networks, and Inmarsat BGAN and VSAT terminals.
Switchboard TS
Comrex Switchboard is a feature that allows users to bypass common IP networking snags (like private LANs and firewalls) by routing data through a private server maintained by Comrex.
Switchboard within the hardware codec enables the following functions:
Comrex codecs can sync with a cloud based server and deliver status information
Comrex codecs can determine their public IP address and the type of any NAT-style router ahead of the codec, and display that information to the user
Comrex codecs can display presence, status, NAT info and IP addresses of other codecs within the same fleet
Comrex codecs can share this information with codecs outside the fleet (Shares)
Comrex codecs can take instruction from the server on how best to traverse NATs when placing a call between two codecs
Switchboard TS is included in the purchase of any LiveShot codec.