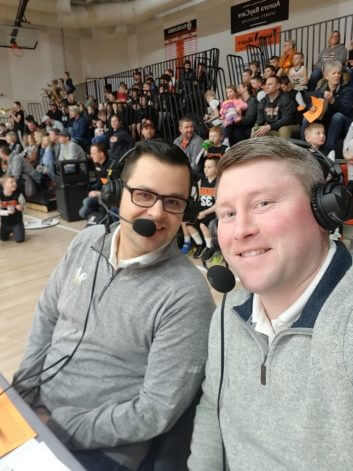 WSCO(AM), a Wisconsin station that is part of the Woodward Radio Group, serves sports and talk programming to an audience that stretches from Green Bay to Oshkosh.
As part of its sports coverage, the station produces live play-by-play for Wisconsin major league, minor league, college and high school sports, as well as a sports morning show called "BJ and the Bear." WSCO covers every game live for the Wisconsin Herd, the NBA G League affiliate of the Milwaukee Bucks.
In its search for a way to send audio from the arena back to the station, WSCO became familiar with ACCESS 2USB, a portable IP audio codec from Comrex that's no longer available for purchase.
When Comrex released its latest model, WSCO decided to purchase a new ACCESS NX for courtside coverage of the Herd.
The station often uses a hard-wired internet connection, and intends to implement NX's portable capabilities for live broadcasts of road games in the coming season. ACCESS NX's attachable mixer allows them to feed in arena sound as well as maintain a private two-way connection with a producer at the studio.
BJ DeGroot, assistant brand manager for WSCO/WHBY and co-host of "BJ and the Bear," told Comrex, "It's functional and reliable, and it's changed the game for our live play-by-play broadcasting. As far as quality standpoint and ease of use is concerned, we have been so happy. If you're looking to take your station to the next level, it's the way to go."
---
---
Originally published in Radio World. View here.