Gagl, A New Remote Contribution Solution, Is Now Available
Subscriptions for this new cloud-based service now available from Comrex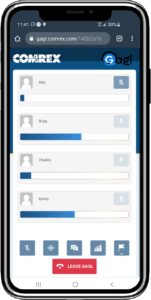 DEVENS, MA, September 13th, 2022 – Gagl, a new cloud service for remote contribution from Comrex, is now available for purchase. Subscriptions are available for $35.00 USD per month or $350.00 USD per year with a free 14-day trial.
Gagl allows between one and five users to send and receive audio from computers and smartphones. Each user receives their own mix-minus to hear other connected guests, and the Gagl audio is delivered to a Comrex hardware codec (such as ACCESS or BRIC-Link, usually in a studio). All participants can hear other participants and the codec "sends" audio back to them.
Participants can connect and send audio by simply clicking a link using any common web browser. Gagl is designed to be used with consumer grade equipment, so contributors only need a device and a headset to get on the air. The simple user interface makes it easy for users with any level of technical experience to use.
Gagl uses the Opus audio encoder, with a bit rate that delivers both voice and music in excellent quality. Gagl also delivers audio directly to a Comrex codec with all the stability enhancements, pro-grade audio connections, and features that hardware codecs provide.
Gagl could be used as the hub for a news program or for a morning radio show to support multiple simultaneous contributor connections. Because it offers low latency, it's appropriate for call-in talk radio. Gagl could also be used to allow a single contributor to connect back to the studio.
Gagl works with Comrex hardware IP audio codecs including the AES67-compatible ACCESS NX Rack IP audio codec and ACCESS MultiRack multi-channel IP audio codec as well as the BRIC-Link series.
To purchase a subscription, visit the Gagl web page. For more info, send an email to info@comrex.com.
---
About Comrex 
Comrex has designed and manufactured broadcast equipment since its incorporation in 1961. Since then, Comrex has consistently developed the most innovative technology to address the specific needs of broadcasters, and create products that enable broadcasters to produce live, local, imaginative remote programming.
Comrex strives to provide a simple answer to a universal broadcast need ­‐ the transmission of high-­quality media to the studio from virtually anywhere, economically, at a moment's notice. Comrex works to develop technology that will allow broadcasters to easily achieve creative and entertaining programming, from diverse and unique locations.
---