This year at NAB, we're introducing something completely new, both for us, and for the industry. It's called Opal.
What's it for?
Have you ever listened to a radio program that spent hours promoting an exciting interview segment that you looked forward to hearing? But when it came time for the interview, the guest called in over a cellphone, and it was difficult to make out what they were saying? And the entire thing felt a little disappointing?
That's where Opal comes in.
Expert guests (like entertainers, political pundits, athletes, and others) don't always have access to engineers. They need something as simple and familiar as a phone call. But that doesn't mean a radio program should be settling for phone quality audio.
Opal enables guests to connect to the studio by simply clicking a link. It provides HD quality audio from consumer-grade equipment, like a cellphone or a computer with a microphone. It's easy, and it sounds great.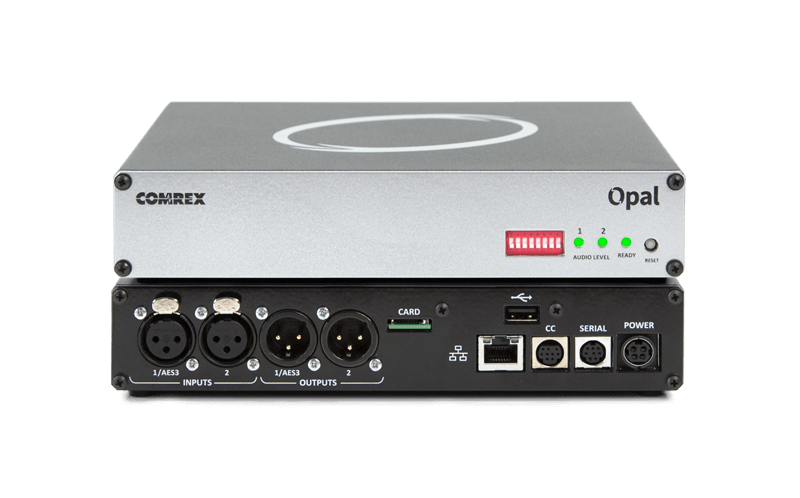 So what is it?
In a phrase, Opal is an IP audio gateway. It's a hardware device that you connect to the internet at your studio, and it takes "calls" from the web. It has an audio encoder/decoder compatible with the encoder/decoder built into most browsers. But most of all, Opal is simplicity. Unlike Skype, the remote guest doesn't install a thing–they just click a link and go live.
How does it work?
Like a traditional audio codec, Opal transmits and receives audio. However, Opal wakes up the high-fidelity audio coding engine built into modern web browsers, so remote guests can connect using a browser on a computer or Android device. (The data transmission path looks a little like this:)
To set up a connection, you just send your guest a link, which they open in either Chrome or Firefox. Once the web page is loaded, they'll see a button – once they click it, they'll be connected, and transmitting high-fidelity low-delay audio. That's it!
Other fun facts about Opal: it can support two discrete connections at once. It occupies 1/2U of rack space, and two can fit side-by-side in a 19" rack shelf. Connections to Opal can only be made from Chrome and Firefox at this time.
Update as of firmware 1.1 – Opal is interoperable with all modern web browsers including Chrome, Firefox, Edge, Opera, and Safari.
What is Opal NOT for?
Opal is not designed for remote broadcasting or ENG. Opal is not designed to be an STL. We encourage creative uses for all of our products, so if you have some extra money, time to kill, and nothing to lose – by all means, give it a shot and tell us how it goes! But we don't recommend this.
---