DEVENS, MA, Feb. 6th, 2017 — Comrex, a leader in IP audio transmission, will introduce ACCESS NX, the latest portable audio IP codec in their ACCESS line, at NAB 2017. ACCESS NX will be available for demo at the Comrex NAB 2017 booth (C1633).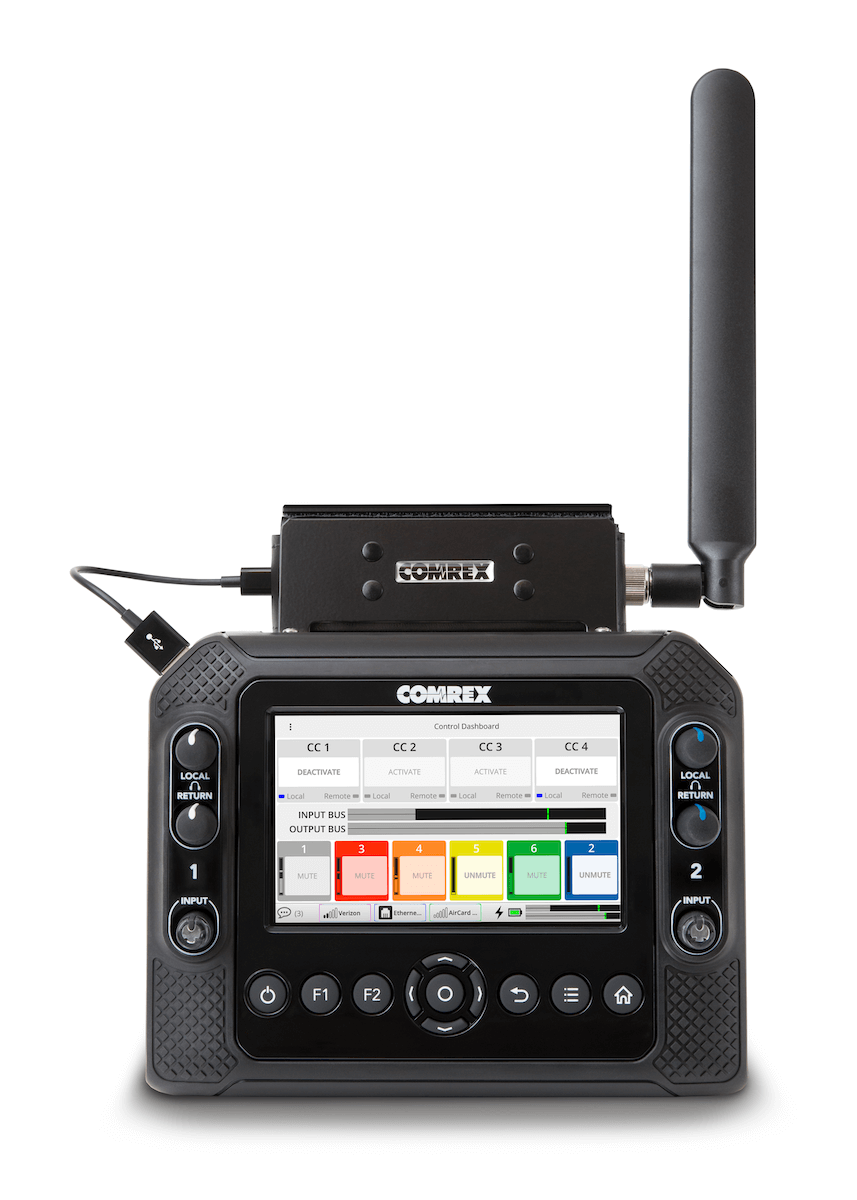 "ACCESS NX has been designed from the ground up to accommodate the substantial technological advances in IP audio transmission," said Kris Bobo Specht, Managing Director of Comrex. "Over the last decade, the field has evolved, as has our expertise. We are very excited to introduce the ACCESS NX  as the ultimate tool to take advantage of these advances."
ACCESS NX features a hardware platform that is optimized for running CrossLock, Comrex's custom reliability layer. CrossLock enables both powerful error correction and network bonding, and intelligently monitors and dynamically adjusts network connections in real-time.
ACCESS NX's updated hardware platform improves user experience with faster processors and a five-inch capacitive touch screen that doesn't require a stylus. Other notable hardware features include a new second mic input, phantom power, and an internal battery. ACCESS NX will be compatible with an ACCESS clip-on channel mixer, a new accessory which adds four mic/line inputs and headphone outputs.
Other features include:
Intuitive GUI

Two USB jacks for 3G/4G and Wi-Fi connectivity, Ethernet port, and compatibility with POTS modem (sold separately)

Two stereo headphone outputs (¼" jacks) with individual controls

Digital mixing and headphone busses

Digital peak limiting

Field-changeable internal lithium battery with built-in charger (5 hours of power)

Serial data & four contact closures
About ACCESS
For ten years, Comrex ACCESS has been pushing the boundaries of portability and reliability in remote broadcasting. With an easy-to-use handheld interface, ACCESS transmits studio-quality live audio in real time over a variety of IP, wireless, and wired networks (3G, 4G, WiFi, BGAN, Ethernet, POTS/PSTN). Using CrossLock technology, ACCESS can make use of multiple IP networks at once, for even more reliability.
ACCESS has enabled broadcasters to transmit live programming from warzones, airplanes, bicycles, protests, and natural disasters – its uniquely portable design has allowed for truly creative programming.
About Comrex:
Comrex has designed and manufactured broadcast equipment since its incorporation in 1961. Since then, Comrex has consistently developed the most innovative technology to address the specific needs of broadcasters, and create products that enable broadcasters to produce live, local, imaginative remote programming. Comrex strives to provide a simple answer to a universal broadcast need ­‐ the transportation of high-­quality media to the studio from virtually anywhere, economically, at a moment's notice. As methods of audio and video transportation evolve, Comrex works to develop technology that will allow broadcasters to easily achieve creative and entertaining programming, from diverse and unique locations.
Press Contact:
Julia Specht
julia@comrex.com