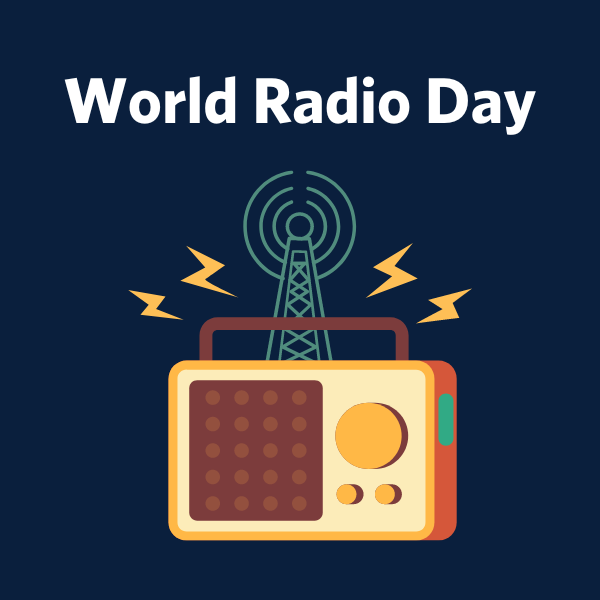 Formed during UNESCO's 36th conference in 2011, this day serves as an annual celebration of radio as a medium, and the role it plays in our daily lives. 
Radio is not only a source of entertainment – it's a vital tool for sharing information about disasters, breaking news, and other life-saving information. It remains one of the most trusted forms of media in the world, and is the most widely consumed medium at a global level. 
This year's theme is "Radio and Peace". Because radio is freely accessible, it has the unique ability to reach a much wider audience than other mediums. This makes it a valuable tool for public discourse.
Professional broadcasters spread information and shape popular opinion, and radio has the power to support peacebuilding and conflict prevention. Remembering the power of radio can remind us of broadcasters' responsibility to be honest, clear-eyed, and engaged. 
This World Radio Day is focused on two subthemes:
Radio in conflict prevention and peacebuilding

: Radio is a major influence on public opinion. Broadcasters have an obligation to be accountable to their audiences.



Supporting independent radio

: Independent radio is free from political and commercial influences. This makes independent radio especially effective at peacebuilding. Because it has no external agenda or obligations, independent radio is a perfect vehicle for sharing balanced reporting, which is crucial for maintaining peace in the world.
UNESCO has 13 suggestions for how to celebrate World Radio Day this year, many of which encourage contemplating radio's capacity for peacemaking. At Comrex, we're thinking about the power of our remote broadcasting tools (like Gagl and ACCESS NX) to deliver live breaking news from the field, and the way it can be used to support public safety and free discourse.
Learn how Comrex can support your radio mission – visit us at NAB 2023! Plus, get a FREE exhibits pass when you register with code LV6885 between now and March 31st – click here to sign up for the show.