BY MIKE SPRYSENSKI
ORLANDO, Fla. —As the market engineering manager for iHeartMedia, I oversee the technical operations for all of the company's radio stations here. We use both Access and BRIC-Link units for various applications like remotes and STL links. I have been extremely pleased with the reliability and flexibility of both lines of Comrex IP codecs.
A couple of years ago, the NBA decided to transition to IP codecs instead of using the traditional ISDN technology because the latter was getting more difficult to obtain in some locations and to cost more than IP networks, especially when dealing with a lot of units and sites as the NBA does. After reviewing what was available, they decided to go with the Comrex BRIC-Links as their new standard.
Assist
I was pleased with their choice, and as home radio engineer for the Orlando Magic, I was happy to assist them in getting the new codecs installed.
The transition was done over the course of the end of the 2013–14 season, when we broadcast about a half a dozen home games on the BRIC-Links. In the following season, we used BRIC-Links exclusively for both home and away games. The BRIC-Links are installed at the Magic's network studios as well as at the Amway Center in downtown Orlando. The Magic have 11 BRIC-Links they use for their day-to-day and game operations. They also use a BRIC-Link to send their network audio to their distributor, SkyView. All NBA arenas are equipped with BRIC-Links that the teams use when playing there.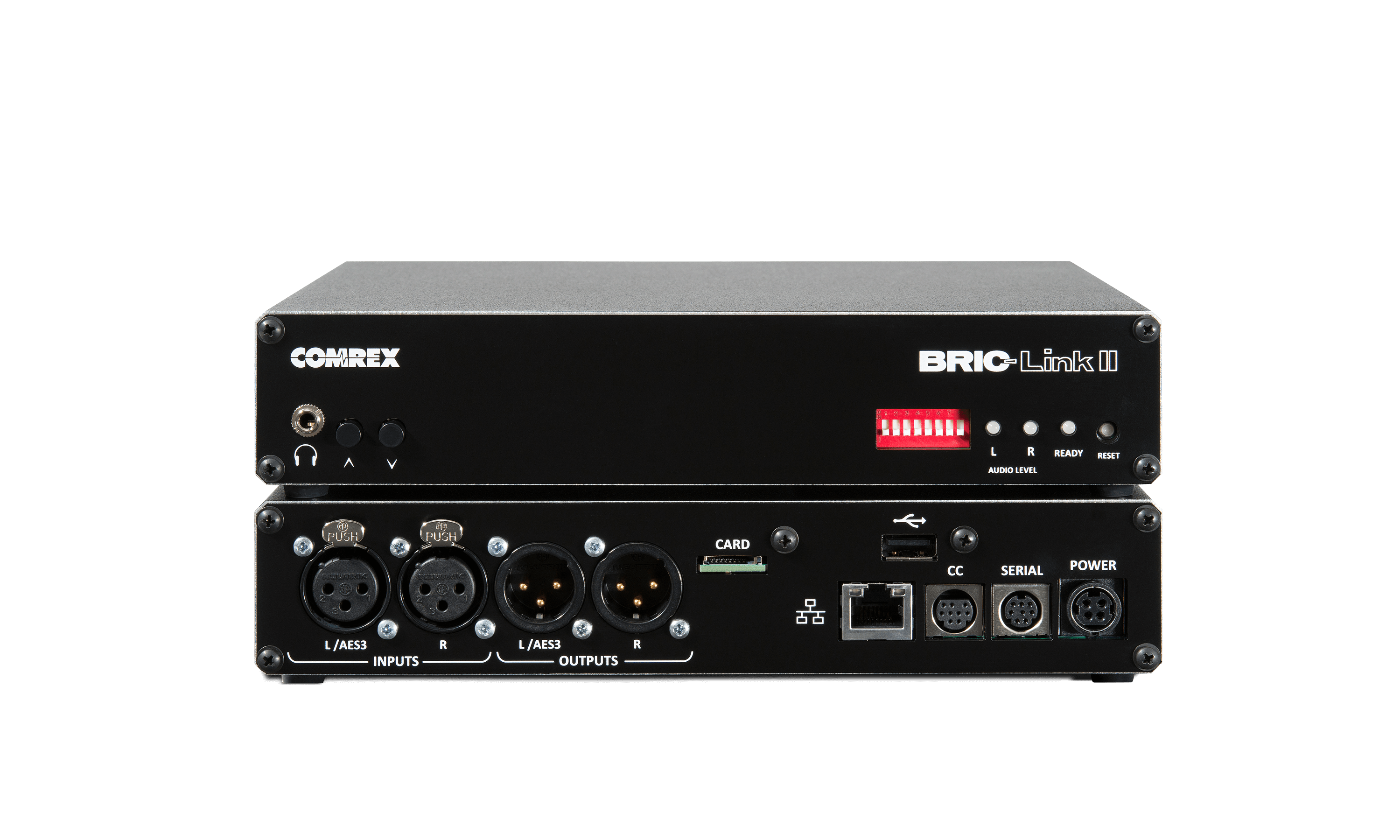 The BRIC-Links are easy to set up and install. In most cases, we used static IP addresses. We also have all of the Magic BRIC-Links on the Comrex TS Server. The TS server enables us to see all of the other NBA Bric-Links so the producer of the radio broadcast can connect to the other arenas around the country when the team is on the road using the built in BRIC-Link web browser. Using the TS server eliminates the need to poke holes through routers and deal with port forwarding to make a connection.
When using ISDN, you connect to the other end by dialing up the phone number of the remote unit. The BRIC-Links are just as easy, but instead of a phone number, you connect via an IP address or use the TS server to connect. You do need to make sure you have a good Internet connection if you want a high-quality broadcast. The BRIC-Link does offer a number of algorithms depending on your connection speed, but make sure you have the best connection available. Hard-wired is always my preference and we usually will do a walk-through and test prior to the event.
For my iHeartMedia stations, we still use ISDN codecs because there are locations that have established ISDN service, but for new locations we now always go with an IP solution. Everybody has Internet, right? So we have found that pretty much anywhere we want to go, as long as we have Internet, we can get on the air.
We've saved tons of money with not having to install ISDN lines. These days, for an ISDN line, just for a one-shot deal it can cost you up to a thousand dollars — plus, they need to be ordered up to 90 days out. With BRIC-Links, if we've got an Internet connection, we can get on the air.
For example, one of my stations did a promotion with an airline a few years ago that started direct flights from Orlando to Amsterdam. We flew to Amsterdam, not really knowing what connectivity options were going to be available to us. As soon as we arrived, we walked around the streets looking for a location and stopped when our morning show host said "I want to do the show from here." I looked for Wi-Fi hook-ups, and found a local hotspot. We did a test, and had a pretty good connection, so we did one of our two days from the streets in Amsterdam. A nearby restaurant allowed us to set up outside and use their tables. We did about six hours of broadcasting from there. I've used Comrex IP codecs also from Mexico, Rio and most recently London with great success.
---
---
This article was originally published in Radio World. 
The author is Market Engineering Manager for iHeartMedia Orlando.