By Del Reynolds
WQEZ Easy 95.5/106.3 FM is a soft A/C station that serves the Grand Traverse Region and Mackinaw Straits Area in Northern Michigan. WQEZ plays soft rock, local news, weather, and event happenings throughout the region. We also maintain a strong connection to the community through charity events and fundraisers.
We use BRIC-Link II as a 24/7 studio-to-transmitter link (STL) to transmit over the public internet from Cheboygan, MI, to Glen Arbor, MI. The transmitting unit uses a DSL connection in Cheboygan, and the receiving unit uses the regular business internet in Glen Arbor. 
In the past, we used T1 circuits to transmit our STL. They worked very well, but the recurring costs were considerable – we've been paying $1900 per month to keep our connections up and running. Consequently, we were looking for an alternative. With DSL and regular internet, we pay a little under $200 per month in total. Just through savings in operation costs, we're going to pay for our BRIC-Link II units in a matter of months.
My first experience with BRIC-Link II was through Comrex's demo program. Comrex sent me a pair of BRIC-Link IIs, free of charge, to try out for two weeks. I wasn't expecting BRIC-Link II to sound as good as it did, but it sounded great. Because the equipment became an integral part of the station so quickly, Comrex let us keep our demo for a little longer while we shopped around for permanent units. The demo program helped us learn in a practical way whether BRIC-Link II was going to work for us, and I'm glad we had a chance to try the gear before we bought it.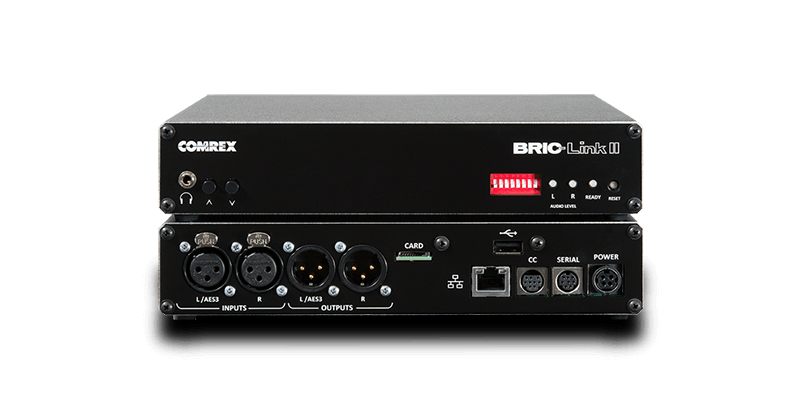 As far as maintenance goes, the BRIC-Link II is kind of "set it and forget it". Every morning, I listen to the radio station to make sure that everything sounds okay, but that's all I need to do. It's been very trouble-free. It keeps working without any input from us, and that's what we like.  The audio quality from BRIC-Link II is exceptional, and the stream uses very little bandwidth. We use the HE-AAC v2 codec to transmit, and it doesn't take that much bandwidth to make it sound great. It's very reliable, and I'd recommend it to anyone looking for an STL solution.
---
---
The author is a senior engineer for WQEZ-FM in MI.