Comrex recently announced a new offering coming at the end of this year called Gagl.
---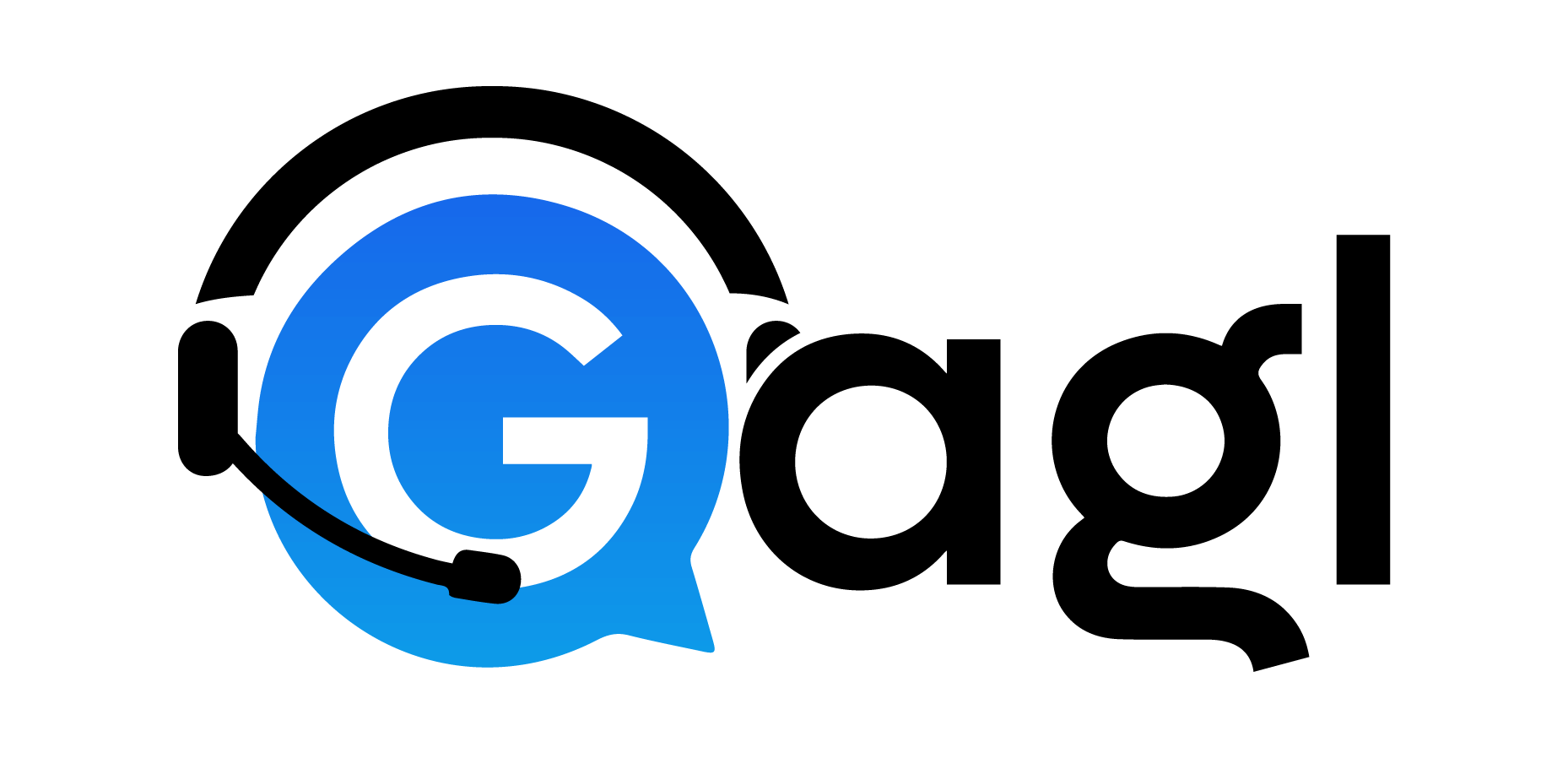 What is Gagl? 
Gagl is a cloud service offered by Comrex. It allows between one and five users to send and receive audio from computers and smartphones. That audio is conferenced (if more than one user), and delivered to a Comrex hardware codec (such as ACCESS or BRIC-Link, usually in a studio). All participants can hear other participants and the codec "send" audio back to them. 
So it's like Zoom? 
Gagl was designed from the ground up with audio in mind. It doesn't send video at all, meaning it requires less Internet bandwidth and therefore has higher stability. And unlike video-oriented conferencing offerings, audio quality is the first priority for Gagl. It uses the well regarded Opus audio encoder and a bitrate that delivers excellent voice and music quality. It also delivers audio directly to your Comrex codec with all the stability enhancements, prograde audio connections and features that you've come to expect from our hardware. 
What application is Gagl designed for? 
Gagl can be the entire hub for a round-robin reporting program. It can run an entire morning zoo radio show. Latency is low enough for call-in talk radio. Or it can simply be a portal for a single contributor to connect back to the studio over a computer or smartphone. 
Does it use an app? 
Gagl doesn't require anything to be installed on your computer or phone, other than a browser. All functionality happens in the browser.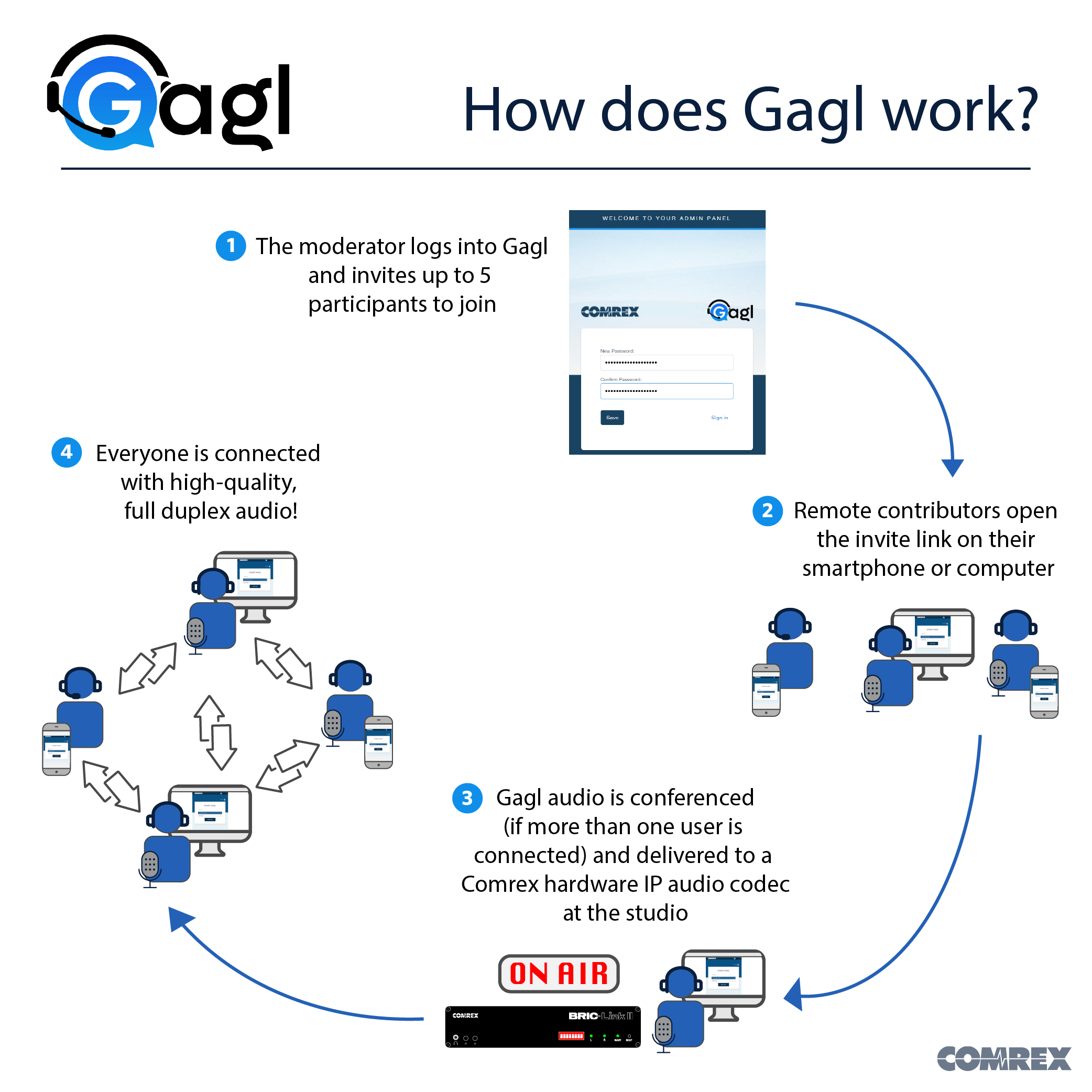 What else is required? 
Because audio is paramount for Gagl, we highly recommend the use of headsets for guests on computers or phones. This removes any audio distortion that can be caused by acoustic echo cancellation. The default mode of Gagl is to require headsets (AEC off) but AEC can be enabled for special times when a headset isn't available. But audio quality will never rival headsets. 
Sounds great! How do I get started? 
Comrex announced Gagl in October 2021, and the cloud service will be coming very soon.
There are two steps to take now so that you're ready for the release.
#1 – Sign up for Gagl updates HERE
#2 – Download Gagl preliminary instructions HERE
---
Who's Who: Gagl Roles
Someone is designated as the Gagl account Master, and this is the person who handles the Gagl subscription. The Master's email address is used to create a Master account on Gagl. Within this account, the Master can set up the Comrex codec parameters and create a list of Moderators. The Master is also always a Gagl Moderator. 
A Moderator is the person who creates a Gagl at airtime. This is a person who has the rights to log into the Gagl landing page with a username and password. While using Gagl, the Moderator has certain rights that guests don't have, like the ability to mute guests and make a Gagl connection to the studio codec. 
Guests are contributors to the Gagl conference. They don't have login rights. Guests access the Gagl with a link provided by the Moderator. Guests can mute themselves, but not other participants. In the case where only one contributor is using Gagl (e.g. a reporter calling into the studio on their smart phone) the concept of Guests doesn't apply. The contributor will be the Moderator. 
Codec is the Comrex ACCESS or BRIC-Link codec located in the studio, pre-configured by the Master account. The codec must be configured for unregistered SIP operation and have SIP ports open or forwarded. Firmware 4.5p11 or higher is recommended, as the Gagl user agent is added to the codec SIP whitelist by default on these releases
---
Want to be the first to know when we have more on Gagl? Sign up for updates HERE.