Spring is just around the corner, and that means one thing – baseball is back! The Major League Baseball (MLB) season begins on March 30th, and baseball will soon be back in our lives. 
We wanted to draw attention to some of our customers who make baseball coverage happen with Comrex portable IP codecs like ACCESS for audio and LiveShot for video.
---
TRM Uses NX For Everything
TRM Corporation is a broadcast engineering company that provides remote broadcasting services to clients like Sirius and the New York Jets. They assist Sirius with live coverage of the New York Yankees. 
When TRM Corporation began working on New York Yankees coverage, the founder, Tom MacDonald, knew that ACCESS NX would be the right choice for the job. "I knew ACCESS NX would impress my client," said MacDonald. "And it did."
MacDonald appreciates the features that ACCESS NX offers. "There are a lot of features we've been hoping for. ACCESS NX has a ¼" jack for a headset, which makes remotes much easier." said MacDonald. "Plus, the agility to have two mics without adding a mixer is fantastic."
ACCESS NX is our latest portable IP audio codec designed for easy remote broadcasting. Portable and lightweight with an intuitive user interface and 2 mic/line inputs (or up to 6 with add-on mixer), ACCESS NX gets you on the air from anywhere. Learn more about ACCESS NX.
---
CTN Coon Rapids Uses LiveShot For Minor League Baseball
CTN Coon Rapids is a PEG station that serves Coon Rapids, MN and the surrounding areas. The station provides a wide variety of programming, ranging from government meetings to local events to sports coverage. Some of their most popular programming is their coverage of the St. Paul Saints MiLB team.
For remote video coverage, CTN Coon Rapids uses LiveShot, Comrex's bonded IP video contribution system. "LiveShot fits really well [with our needs] because it's simple," said Josh Udvig, Technology Coordinator for CTN Coon Rapids. "The ability to hit one button and be live with cue audio, return audio, and return video is invaluable."
LiveShot's return video & IFB feature is one of CTN's most used capabilities. "With LiveShot's return video, we're able to see everything that's going on at the station from the field," said Udvig. "Our reporters love LiveShot's IFB return. Being able to communicate with the control room is required for a live situation."
Plus, LiveShot is affordable. "We're a community station – we're on a tight budget," said Eric Strouse, Station Manager for CTN Coon Rapids. "Comrex fits in our budget perfectly." 
---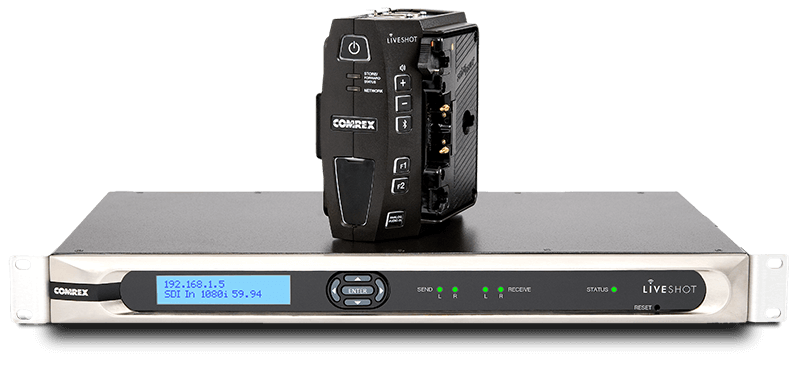 YES Approves of LiveShot
The YES Network is a regional sports network owned by 21st Century Fox and the New York Yankees. One of their biggest sports programs is "The Michael Kay Show", a live sports radio show that covers the latest news in Yankees baseball.
YES Network produces a video simulcast of "The Michael Kay Show", and has used Comrex LiveShot to deliver their video over bonded cellular. "The form-factor of LiveShot Portable is unique, which distinguishes it from other bonded cellular products," said Jack Kestenbaum, Director of Technical Operations for YES Network. "And LiveShot also contains some unique features, like two-way video and IFB capability."
"One of the reasons I ultimately chose Comrex is the history behind the company," said Kestenbaum. "Comrex has been in broadcasting for more than 50 years, and the customer service has been excellent."
LiveShot is our IP video codec designed for high-quality, low-latency audio and video transmission over the Internet. The portable unit is camera-mountable and lightweight; the rackmount unit fits perfectly into trucks and studios. Learn more about LiveShot.
---
Change the game with Comrex.
We'll go to bat for you.
Located in the US? Check out our demo program.