BY JOHN PAUL
I host the Car Doctor Radio Show a car advice call-in show that airs on Saturday mornings with Salem Media on WROL 950AM. I think of it as a second opinion show. If you've gone to your garage and they've given you their thoughts on your car, and you're not quite sure about what they've said, you can call me and I'll tell you whether I think it's reasonable. My full-time job is with AAA, and I see this as a way to help by sharing my expertise.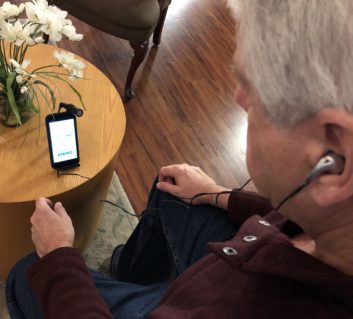 While I go to the studio regularly, I also need a way to be able to do my program remotely. I enjoy traveling and regularly have opportunities to do remotes from events like the Boston Auto Show.
I have a Comrex BRIC-Link unit and I love it, but I always want to make sure I have a back-up. Comrex FieldTap gives me peace of mind. I know that if the internet fails for whatever reason, I'll be able to call in to the codec at the studio, connect quickly, and sound better than I would on a regular phone call. It's a free app, and it's very easy to use, and it makes me feel good to know that I'll have a quality-sounding option no matter what happens.
Prior to downloading FieldTap, I had using the Linphone app. FieldTap is very similar, so the transition was easy. Once you've entered and saved the call information, you just press one button, and boom, you're connected to the codec at your studio. Recently, I called in from the road to do a segment on The Answer with Joe Ligotti. The producer was surprised that I was using a phone app, and said that it sounded much better than a usual call.
FieldTap isn't a replacement for a codec, but for emergencies or short remotes when you need to cut back on equipment, it works well. During a remote last year, we encountered a situation where we needed FieldTap as a back-up. We tested the networks and everything else the night before, but during the remote, there was a problem with their router, and the internet went out. I quickly grabbed my phone and connected to the studio with FieldTap, and we used it for about 15 minutes until the Wifi came back on. We cut to a commercial break, and then reconnected with the BRIC-Link, and were able to continue seamlessly. Knowing that this back-up is available makes things easy for me, and it also makes it easier for station managers who are trying to sell remotes to prospective advertisers.
Every time I've had to call Comrex technical support, the folks there have always been able to answer my questions. They're great at giving me clear answers, and seem to understand that not everyone is an engineer, so I leave with a clear understanding of what I need to do.
The only gear I need to sound great with FieldTap is my iPhone, my small plug-in microphone, and a pair of earbuds. Not too long ago, we needed a van full of equipment to accomplish a remote like that, and it wouldn't sound nearly as good. FieldTap is a valuable and simple tool to have in my back pocket.
---
Learn more about FieldTap.
---
This user report was originally published in Radio World. To read the original story, click here.
The author is the host of "Car Doctor Radio Program".