BY RYAN ELDER
Topeka, Kan. – At Retirement HQ, we work with financial advisors to record and produce radio shows, which allow them to share their expertise with listeners in their area. The advisors we work with are located across the country, but through our work they are able to use radio as a means to reach their audience. Because our advisors are located in so many places, collecting the audio for their shows can be a logistical challenge.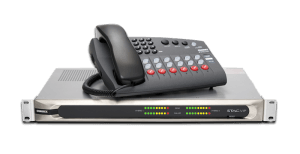 While some advisors have opted to purchase a BRIC-Link to connect to us, other advisors needed a different solution. To accomplish this, we currently use the Comrex STAC VIP, along with WebRTC, a free application that enables browsers and mobile applications to make real time calls with high-quality audio.
Before we implemented WebRTC, we accomplished our audio collection with a combination of Skype and our STAC VIP. Users would call our STAC system with Skype, and record their shows that way. It was a good system – Skype provided high-quality audio, which was important to us. But in the summer of 2014, Microsoft acquired Skype, and disabled the program that enabled it to connect with Comrex products. We needed a replacement, as soon as possible. My boss was the one who originated the idea of using WebRTC instead. Once we implemented it, WebRTC did exactly what we needed.
While brilliant, many of our advisors have no previous radio experience. It's important that we make their set up simple, with as little configuration as possible. In the past, installing and setting up Skype could be confusing for some of our advisors. With WebRTC, an advisor simply need to plug a USB microphone into their office computer, and click a link we've sent them – there's no need to install software. They're then connected to our STAC VIP phone system, where we can record their show. After that, we edit the programs, and place them on radio stations wherever our advisors are located.
There's no need to send out or train our users on unfamiliar equipment. This has streamlined our production process significantly – it's very convenient, and our advisors enjoy the simplicity. Additionally, WebRTC uses Opus audio codecs, which provide great sounding audio. While quality will occasionally fluctuate, depending on the stability of the IP network an advisor is using to connect to us, if network conditions are good, the audio sounds wonderful. We love it because connecting users is easier than it's ever been – they click a link, and we're set to go. From the standpoint of simplicity, it's made our jobs much easier.
---
Please note that STAC VIP is a retired Comrex product. A suitable, smaller-scale replacement would be VH2, a two-line VoIP hybrid. To learn more about VH2, click here.
---
This article is a reprint from the June 8th issue of RadioWorld. To read the original story, click here.
The author is the Lead of Radio Production for Retirement HQ.