For many in radio, remotes are an essential part of operations.
Live segments on location are entertaining ways to add excitement to drive-time shows as well as valuable sources of ad revenue.
News programs rely on remote broadcasts to cover important events live from the field and break news as soon as possible.
And live sports coverage requires hours of continuous high-quality audio with low-latency from the sidelines – often from different stadiums and arenas that vary from week to week!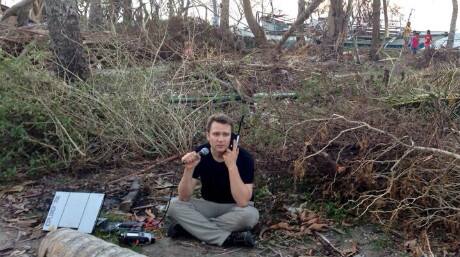 But outside broadcasting comes with a lot of challenges. Electricity may not be available, meaning that there's nowhere to plug in your gear. In many cases, there's no dedicated internet, and you might only have access to shared WiFi or cellular networks (and sometimes, not even that).
Remote broadcasting requires creativity and quick thinking from engineers, who have to make sure that everything stays connected without a hitch.
Doing a live remote broadcast is hard enough – you shouldn't have to worry about your equipment!
Comrex has spent the last several decades engineering remote audio broadcasting solutions that are intuitive, efficient, and reliable.
For the last 15 years, we've been refining our IP audio codecs and they've become the preferred choice for live transport of professional audio.
ACCESS NX is our premiere portable IP audio codec designed for remote applications. 
Broadcast Reliable over IP
ACCESS NX was designed around CrossLock. The "secret sauce" that powers Comrex IP audio codecs, CrossLock is our special suite of reliability tools. Our proprietary technology offers an expanded array of techniques including congestion detection, redundant transmission, forward error correction, and deadline-sensitive retransmission.
CrossLock allows you to use several multiple network devices simultaneously to increase available network bandwidth and improve reliability. In Bonding Mode, ACCESS NX allows you to combine multiple WiFi, cellular, or hardline IP connections, so you can make the most of any available bandwidth. 
What happens if a network starts to fail, or if bandwidth changes? CrossLock includes an adaptive management engine that monitors the performance of each network link and applies the most appropriate tools for the current network conditions. It calculates the highest quality and lowest delay combination of available networks to achieve the desired target rate, and will adjust settings to ensure that your connection remains stable. And it does all this automatically, so you don't have to worry about it.
Rugged Design for Use in the Field
ACCESS NX features a small chassis that you can hold in your hand, which makes it perfect for man-on-the-street outside broadcasts or any other segment that requires portability for your talent.
With a built-in battery that can support up to 6.5 hours of talk time (5 hours when connected to the optional mixer), ACCESS NX can carry you on remotes even if you don't have power available. 
Need to hook up multiple mics? ACCESS NX comes with 2 I/Os built in, but can be expanded to 6 I/Os when plugged into our optional mixer.  
Plus, there's no need to bring along a PC to configure settings or manage connections in the field. Control the unit via its built-in, intuive, 5-inch capacitive touch screen for easy management and configuration on the fly.  
Hassle-Free Connections
When doing a remote audio broadcast, it's common to encounter networks that are configured with firewalls and other obstacles that make connecting a challenge. ACCESS NX comes with Switchboard is a feature that allows users to bypass common IP networking snags (like private LANs and firewalls) by routing data through a private server maintained by Comrex.
Switchboard makes it easier to log on to unfamiliar Wi-Fi networks, like those you might encounter in hotels, schools, and wherever else you might do a remote. Reduce the strain on your IT department and worry less on broadcast day. 
Worried that the studio you're connecting to doesn't have the compatible equipment? ACCESS NX can connect to any Comrex IP audio codec, current or retired, as well as our FieldTap smartphone app. ACCESS NX can also be configured to connect to other manufacturers' codecs, as long as they're SIP compatible. 
Top-Notch Support
Providing excellent customer support is one of our key company values. Our tech support, available in both English and Spanish, is free and always will be. Our tech team is knowledgeable and engaged, and you'll work directly with someone who really understands the equipment.
Plus, we support all our gear, even our retired models – we're still answering questions and repairing gear that's been in the field for decades. 
---
Resilient Connectivity for Remotes
Outside broadcasting is hard enough without equipment failures. Let us set you up with audio equipment you can trust. Contact us today!
Looking to do an outside broadcast with video? Check out LiveShot!
Learn the basics of LiveShot in 3 minutes in this video.
---