By Andy Butler
Engineer
Wild Alaska Live was a three-day production that "turns the cameras on a must-see natural spectacle that plays out across the vast Alaskan wilderness, where some of the world's most remarkable animals – bears, wolves, moose, orcas and eagles – gather by the thousands to take part in Alaska's summer feast, an event never before captured live on television". A production of BBC Earth for PBS, Wild Alaska was broadcast from several points deep in the Alaskan wilderness. Thousands of public television viewers tuned in both in the United States and in the U.K.

As a cooperative production between BBC and PBS, we had to actually create two programs – one that fit television standards in the U.K (50 Hz), and one that would work in the U.S. (60 Hz). The BBC program, which starred British hosts, would clear at 3PM EST – prime time in England. And then, several hours later, we would produce and transmit the American program which starred American hosts. The entire truck had to be recalibrated and reassembled twice a day.
In the wilderness of Alaska, cellular signal was very spotty – definitely not enough to support an intercom connection. There was also absolutely no way to get a POTS line installed. Our crew was located in a place where even residents needed to put in an application and wait two or three years to maybe get a landline. Because of the efforts of the late senator Ted Stevens, wireless internet was available – one of his big initiatives was Alaska Net, which basically makes internet via satellite available to anyone in the state of Alaska.
We had satellite trucks available with plenty of capacity, and so we had all of the internet we could possibly need. So, because we couldn't use our dial-up intercom system like we normally would, we needed an IP solution. The BBC had numerous BRIC-Link units available, and we decided to give them a try.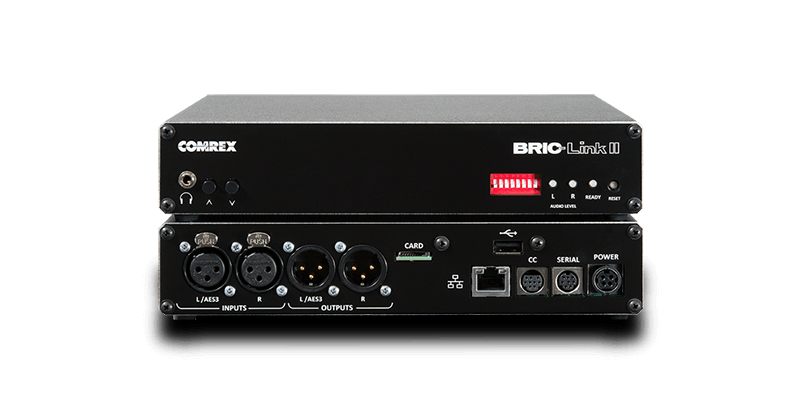 Because we were using a public service internet connection on the remote end, there couldn't be a fixed IP address. So we provided the fixed IP address for our units on the studio end, and then the remote had to connect to us each time.
The technical supervisor in Alaska took about two or three minutes per broadcast to establish the connection. After that, it just sat there and worked. We normally use dial-up couplers to establish the connection between the intercom system in the remote truck and the studio. That's worked well for us in the past, but POTS lines often have artifacts, which are annoying at best. The BRIC-Link connection was completely silent.
We only needed the left channel, so we were able to use the other channel to feed captioning audio back to the field. Because we could send our captioning audio in real time, it gave our field team a nice clean audio feed that could be distributed to both the talent and to the engineers in the truck. This tightened up the broadcast considerably – we still had some pauses in the remotes, when the pre-delay audio wasn't delivered in time, but overall it made a significant difference. This turned out to be another useful capability.
Because we're on television and we never run without a back up, we had two parallel systems, so if one failed the other one was already up and running and the program wouldn't be interrupted. The second unit and the second connection were never used. When a system works correctly, its use is actually underwhelming – that was the great thing about BRIC-Links, they just worked.
---