Congratulations on your new Comrex gear! While you're getting set up, there are a few steps you should take to make sure you're keeping your Comrex up to date and working.
Make sure you register your warranty
We provide a 1-year warranty for all our products. Registering for a warranty is free and only takes a few minutes! Register your warranty here.
Register for product-specific updates
We maintain individual email lists for all of our products! We use these lists to send out alerts for new firmware and other product-specific information.
To sign up for updates, go to the product page for the product you just purchased, and look for the "Receive updates" button in the right-hand menu.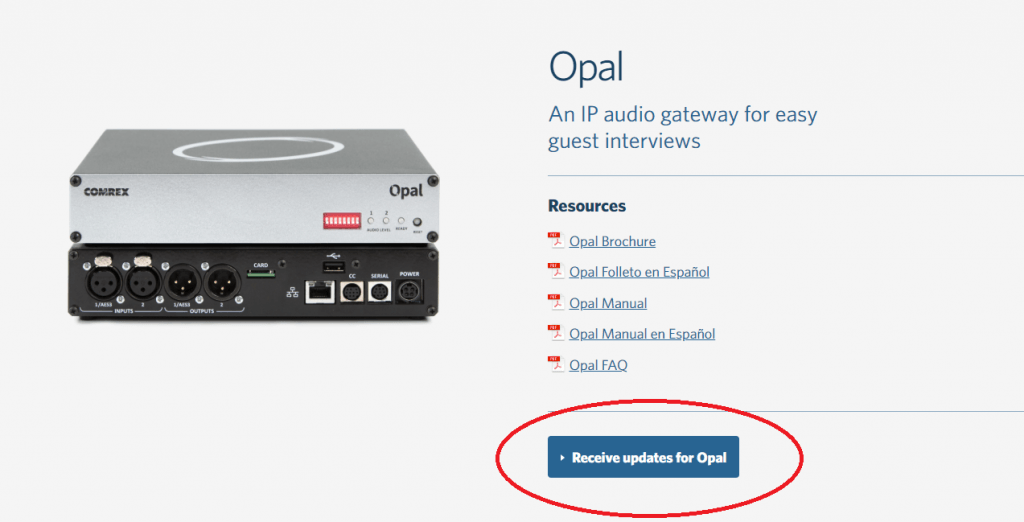 If you sign up for product-specific updates, you will not be subscribed to our general newsletter – you'll only get information about your equipment, and nothing else. But if you want to…
Subscribe to our general newsletter!
Our newsletter is full of stories about our products, tech tips for Comrex users, news and updates, and thought leadership like ebooks and more. If you want to bolster your knowledge of Comrex equipment, or read new articles about the industry in general, our newsletter has something for you. Subscribe here.
Read the manual and look for resources on our website
We pride ourselves on writing detailed and clear manuals, and providing loads of supplemental tech information on our site. If you have a question or are having trouble setting something up, it's worth checking your product manual for answers, or searching our website. But if, after you've done those things, you still can't find an answer, send an email to techies@comrex.com and we'll help you out!
Follow us on social media
Keep up with our latest news and info on social media, too! We share videos, helpful graphics, and more. Follow us on Twitter at @comrex, Instagram at @comrex, and Facebook!
Thank you for buying a Comrex – we're excited to see what you do with it!
Are you thrilled with your Comrex? We would love to interview you! Email news@comrex.com and tell us your story.