While some people only need a single instance of an IP audio codec, larger organizations generally need many. Some need to manage dozens (or hundreds) of codecs at once!
For those needing to transport multiple channels of audio, we designed ACCESS MultiRack. 
Senior Director, SiriusXM Enterprise Operations Daniel Berdiel reported to Radio World:
"On the hardware side, we needed a way to scale up our remote sessions capacity in a small hardware format. Because we already had substantial experience with Comrex portable codecs, we chose the ACCESS MultiRack. The AES67 interface and its ability to make five simultaneous connections made it easy to integrate in our facility."
ACCESS MultiRack is the equivalent to five codecs contained within a sleek 1RU chassis. It's built on a decade of experience and excellence in IP audio transmission from one of the most trusted manufacturers in broadcast.
Here are some of the reasons why ACCESS MultiRack is the best multi-channel IP audio codec in the market.
1. Reliability
There's a reason why broadcasters around the world swear by Comrex codec technology. With tens of thousands of IP audio codecs out there, we've proven ourselves to be the industry leader in live audio transport.
ACCESS MultiRack (along with the rest of our IP codecs) is powered by our proprietary CrossLock technology which allows for the use of multiple networks for extra reliability. While portable units will often utilize CrossLock in bonding mode, rackmount units frequently use CrossLock in redundancy mode since networks are generally less challenging in stationary settings. 
2. Space savings
Gone are the days of using 1RU for a single codec! With ACCESS MultiRack, you can clear up your rack and fit five codec instances in the same amount of space. 
Plus, you can save space in your browser. Consolidating codec instances into a single unit makes it easy to monitor connections and adjust settings from a HTML5-based user interface. 
We also have tools like Fleet Commander that eliminate the hassle of juggling multiple browser tabs! Control your codec fleet in a single place.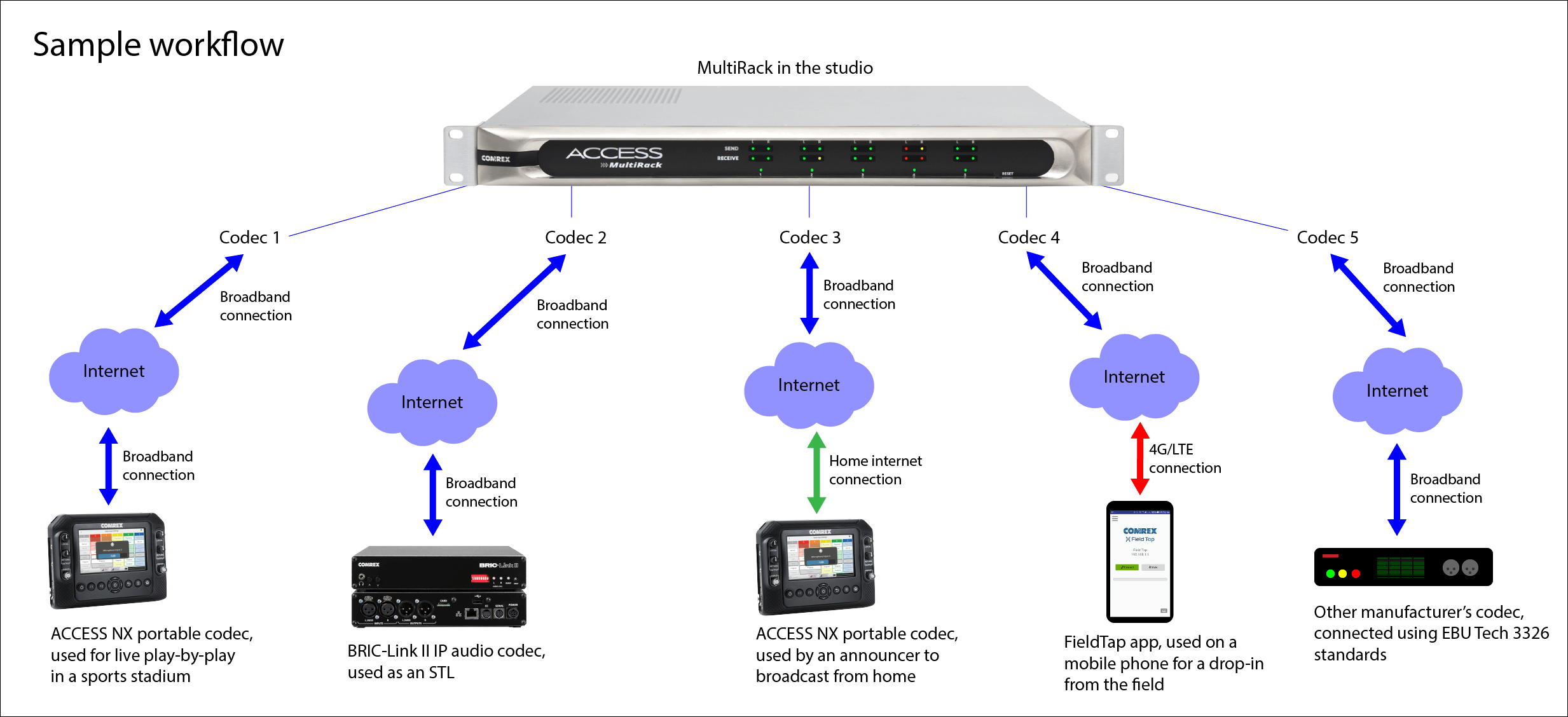 3. Price point
ACCESS MultiRack is the equivalent of five codecs, but not from a price standpoint. In fact, ACCESS MultiRack is less than the cost of two ACCESS NX Rack units! So even if you only need two codec instances, ACCESS MultiRack will still save you some cool cash. The savings only increase as you scale your business. 
Please note that Comrex does not sell directly. For a quote, please reach out to an authorized Comrex audio dealer. We drop ship from our facility in Massachusetts. All Comrex products are generally in stock, but feel free to contact us to confirm!
4. Compatibility
Studios are upgrading to AoIP, and ACCESS MultiRack is AES67 compatible so that it can fit into any modern studio. The first codec instance also features AES3 and analog audio I/O. 
Additionally, ACCESS MultiRack is compatible with all Comrex IP audio codecs both current and retired as well as the free Comrex FieldTap smartphone app, available for both iPhone and Android.
ACCESS MultiRack can also connect to other manufacturers' codecs that are SIP compatible.
Watch our case study video to see how Comrex codecs power the nation's leading news station!
5. Familiarity
ACCESS (and BRIC-Link) codecs are used by broadcasters and other audio professionals in almost every application. Installations scale from small rural LPFMs to major distribution networks to talk show hosts at home to professional athletics programs and everything in between. 
These product lines also hit the market starting in 2006. If you've used a Comrex IP audio codec – even a retired one like ACCESS Portable Classic or our original ACCESS Rack, ACCESS MultiRack will be familiar. It's all the best bits of ACCESS that you know and love, with a brand new hardware platform and HTML5-based GUI.
It's ACCESS on steroids times five. 
Then there's the reasons to choose Comrex: exceptional customer service, American manufacturing, free technical support in both English and Spanish, and a market-proven track record of high-quality products over 60 years.
Need a multi-channel IP audio codec? ACCESS MultiRack can help you streamline your workflow and simplify your rack while never compromising on reliability. Learn more about it here.
For those only needing a single codec instance, check out ACCESS NX Rack – a worthy successor to our ACCESS Rackmount, released in 2006.
For remotes, ACCESS NX is our sleek, portable unit that's designed for field use! Powered by CrossLock. Click here to watch the 1-minute video!
Do you already have an AoIP system installed in your facility? We have set-up documentation for ACCESS MultiRack (along with ACCESS NX Rack) as it interfaces with the following: 
---