LiveShot is a favorite of public, educational, and government access stations, and it's no surprise why. LiveShot is one of the most versatile and user friendly bonded cellular (more accurately, bonded IP) solutions on the market.
So why are more and more PEG stations turning to Comrex for our live video solution?
1. Programmable Quick-Connect Buttons
You only need to configure your settings once – LiveShot lets you save your settings. All your crew needs to do from the field is press a button, and you'll be connected in seconds.
This means less pressure during live remotes, less worry for your team in the field, and less time waiting for your equipment to connect. Especially in community media where there are a lot of volunteers, it's important to have a simple solution that even the least tech-savvy can use.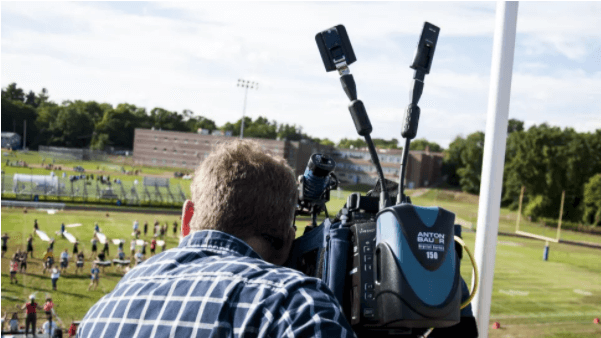 2. Free App for Control and Monitoring
Say your crew calls you from the field and says "The LiveShot is broken! What do we do?!" You can log into your LiveShot remotely using our free LiveShot Control app, and monitor the connection and adjust settings from anywhere. This makes it easy for you to troubleshoot without leaving your office.
3. Free, Knowledgeable Tech Support
We take great pride in our technical support. When you call, you'll be connected with an expert technician who will help you every step of the way. Best of all, our technical support and firmware updates are free, and always will be.
Learn more about our technical support team.
4. IFB and Return Video
LiveShot includes full duplex audio, affording you two IFBs as well as director/camera PL. Additionally, LiveShot can handle return video, meaning that you can watch a program or prompter feed from the field.
5. Demo Program
We offer a free Loaner Program! See how LiveShot works in your studio by trying it for two weeks. All you need to pay for is shipping.
Learn more about our demo program.
---
Watch our community media case study:
---
Read what PEG stations have to say:
North TV Cuts from Cable With LiveShot
LiveShot Makes BCTV Look Great
North Metro Television Goes Wireless with LiveShot
LiveShot Allows SHCTV To Go Live With Ease
SCTV 17 Expands Programming To Facebook Live With LiveShot
Liveshot Empowers Burnsville Community TV
---