We make a lot of products. Like, a lot of products. We've got our ACCESS and BRIC-Link lines for audio, LiveShot for video, plus solutions for guest interviews, callers, and IFB. 
Considering how many options we have, is it any wonder that most of our customers refer to our products as "the Comrex"?
But if you've visited our website because you used a Comrex unit one time or because a colleague of yours recommended trying one out, you may be totally confused when you get here and see a zillion different product names. 
So we thought we'd explain – what is a Comrex?
QUICK LINKS
A Comrex is an audio codec
A Comrex is a video codec
A Comrex is an audio gateway, a hybrid, or an IFB solution
---
A Comrex is an audio codec
Most commonly, broadcasters are talking about one of our audio codecs when they talk about "the Comrex". This dates back to the 80s and 90s with our POTS and ISDN codecs.
For the past 15 years, our focus has been IP and our audio codecs are the standard worldwide. Our IP audio codecs include our ACCESS and BRIC-Link lines.
Audio codecs are used anytime you need to send audio from one location to another (or maybe several) in real-time. They're commonly used in radio for audio contribution from home studios and remote locations, studio-to-studio and studio-to-transmitter links, sports play-by-play, and more.
They're also used in voiceover for live sessions as well as in television for IFB and audio backup. Outside of traditional media, they can be used for live transit and emergency alert applications.
Anytime you need to move audio reliably and in a timely way, you need a codec.
• READ OUR  BLOG POST •
3 Popular Applications For IP Audio Codecs
ACCESS Line
Did you use a Comrex for a remote broadcast in the past 15 years? You probably used one of our ACCESS Portable codecs. Hand-held, lightweight, with an intuitive user interface, ACCESS Portables have been one of our most popular products.
Our original models (Classic and 2USB) are retired now, but you'll still see them in the field. Some of our customers have been using their ACCESS units for over a decade, and they're still going strong! 
Our latest portable IP audio codec designed for remote broadcasting is ACCESS NX. Built on over a decade of experience and excellence in IP audio transmission, ACCESS NX is all the best bits of ACCESS but with an entirely new hardware platform and user interface.
Plus, with CrossLock Technology, it has the ability to leverage multiple networks so that you can have more confidence in your broadcast.

Did you use a rack unit? It was probably ACCESS Rackmount, a revolutionary IP audio codec that hit the market in 2006. While ACCESS Rackmount has since been retired, we recently introduced ACCESS NX Rack, our next generation studio IP audio codec. It's AES67 compatible, with a new HTML-5 user interface, and it's perfect for the modern studio.
We also have ACCESS MultiRack, which is our multi-channel IP audio codec capable of five full-duplex mono or stereo connections. Fully AES67 compatible, it is equipped to fit into any modern AoIP studio. Housed in a sleek 1RU chassis, ACCESS MultiRack saves you space (and money)!
• WATCH OUR CASE STUDY VIDEO •
WTOP Ditches ISDN for Comrex ACCESS
BRIC-Link II

Was your Comrex a little black box? It was probably a BRIC-Link! The latest model in this line, BRIC-Link II is our no-nonsense IP audio codec that packs a lot of functionality into an unassuming package with a cost-effective price point.
It's commonly used for STLs and other 24/7 applications, but we also see lots of them in stadiums for live sports coverage as well as in home studios.
Known for its reliability, BRIC-Link II provides an elegant way of moving linear or compressed audio with very low delay. It's simple to use, and many of our customers say "it just works".
• DOWNLOAD OUR FREE EBOOK •
BRIC-Link for Your Home Studio
---
A Comrex is a video codec
Did you use a Comrex to send video? You used LiveShot! Our live video solution delivers bidirectional HD video and audio over a range of IP networks at latencies as low as less than 200mS. Plus, LiveShot has a full-duplex cue channel and return video.
Utilizing sophisticated CrossLock VPN technology, LiveShot is able to make use of even the most challenging 3G/4G, Wi-Fi, and satellite networks to maintain a secure and stable connection. This is perfect for wireless electronic newsgathering and remote broadcasts.
• WATCH OUR VIDEO •
Learn How LiveShot Works in 3 Minutes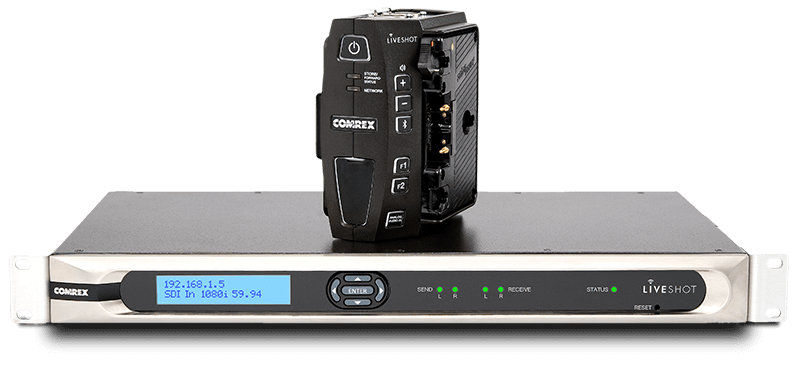 LiveShot Portable
Compact with a versatile interface that can be mounted directly onto the back of a camera with Anton-Bauer or V-Mount plates (or held in a pouch), LiveShot Portable is a bonded cellular IP video codec designed for the most demanding field broadcasts. LiveShot Portable is perfect for the field at only 3 pounds, and it connects back to LiveShot Rackmount. 
LiveShot Rackmount
LiveShot Rackmount is the "stationary" unit. It can be used to connect to a Portable unit in the field, but it can also be used to connect to another LiveShot Rackmount for studio-to-studio and truck-to-studio applications.
---
A Comrex is an audio gateway, a hybrid, or an IFB solution
Opal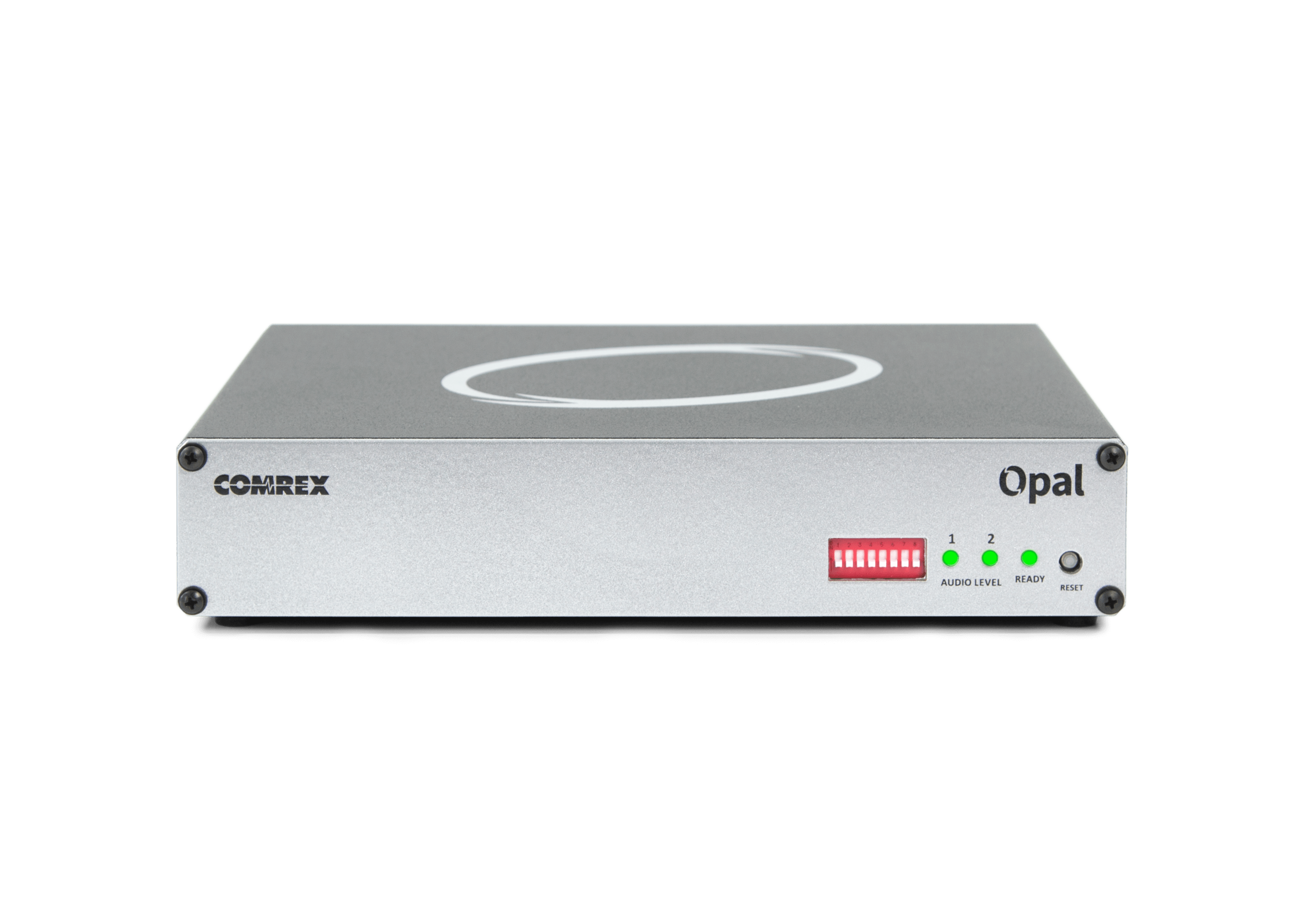 Opal is an IP audio gateway that enables guests to connect to the studio by simply clicking a link. It provides HD quality audio from consumer-grade equipment, like a cellphone or a computer with a microphone.
It's easy enough to use without a technical background, and most importantly, it makes your expert guests sound great. Plus they don't have to install a thing!
• WATCH OUR CASE STUDY VIDEO •
Entercom Makes Guest Interviews Simple With Opal
VH2

A dual-line hybrid, VH2 connects two VoIP lines to a studio for individual broadcast or flawless conferencing. VH2 prevents echo and distortion, and automatically adjusts caller audio to a uniform level, leaving you with a result that's clean and clear. 
Plus, VH2 uses only VoIP phone lines, saving you money and increasing functionality. Get rid of your POTS lines, and see how VoIP technology can save you money.
• DOWNLOAD OUR FREE EBOOK •
An Overview of VoIP Technology, How It Works, and How To Use It
EarShot IFB

We have a history of making couplers and other tools for IFB. Recently, we noticed that many people in broadcasting are still using multiple analog phone couplers for IFBs. POTS lines aren't cheap these days, and a wall full of couplers is cumbersome and expensive.
EarShot IFB is a voice-over-IP based solution for television IFB. It delivers live audio feeds for up to 30 callers, making it possible to replace 30 POTS lines. EarShot IFB is designed to provide telephone-based live studio program and IFB audio to field-based remote broadcasts, like TV ENG reports.
---
Interested in purchasing? Contact an authorized audio dealer or video dealer!
*Available for US residents ONLY.